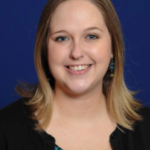 Dr. Kelly S. Rippard
Instructional Technology Lecturer
Old Dominion University
Educational Leadership Experience
Greetings, everyone, I am excited to share with you my educational leadership experience. At the beginning of the career, I served as a high school English teacher at a state-of-the-art technology high school in Virginia; here I sponsored service clubs and the school's digital newspaper as well as chaired vertical and grade-level committees. I then went on to become an English faculty at a private, technology university where I was a leader on the Arts & Sciences digital portfolio evaluation committee, leader for the iPad integration across curriculum plan, leader for the virtual writing center. Later, I became the university's curriculum operations specialist and instructional designer, where I was a leader in the university's digital curriculum and curriculum processes, digital assessments and data collection for the QEP/SACS review, and leader for curriculum development for online, blended, and face-to-face curriculum developed for the Moodle LMS. Lastly, I have been a leader as an Instructional Technology Lecturer by sponsoring my college's largest professional organization, the Student Virginia Education Association (SVEA), which is a sub-group of the Virginia Education Association (VEA) and National Education Association (NEA), respectively. I am also the LiveText digital portfolio administrator for my department and have been a leader on the college's Diversity and Inclusion Committee. Outside of my previous and current jobs, I am now a co-chair for the English education special interest group (SIG) for the Society for Information Technology and Teacher Education.
Vision for VSTE
First, let me say that I am proud to be in Virginia where we have such a great organization to advance the role of technology in education. When I look to the future, I see a VSTE that works even harder to be on the cutting-edge of digital communication, technology advocacy, and technology training. In terms of digital communication, I'd like to see VSTE have an improved website that includes videos tutorials on important technology topics for teachers, technology specialists, and pre-service teachers. I'd also like to continue with the webinars and maybe add in podcasts and work to reach out to VSTE's members via more social media such as Instagram and Facebook so that we can work to attract more teachers and pre-service teachers as well as build a strong personal learning community. I would also like to help lead a committee on technology advocacy, helping teachers, schools, and districts locate and apply for grants and funds to bring technology into the hands of the students for learning. Lastly, I'd like to see VSTE have more hands-on workshops where teachers, administrators, parents, and even students can learn to use mobile apps, mobile technologies, and Internet resources to improve learning.
Biographical Sketch
I was born and raised in Hampton Roads, and I come from a long line for educators. I graduated from Christopher Newport University then continued my education at Old Dominion University, earning two master's degrees and a Ph.D. in Curriculum & Instruction, with relevant course work in Instructional Design Technology. I have always been the go-to person for technology among my co-educators and within my family and friend groups. I am married to my patient, supportive, and technology-loving husband of 9 years Jason, and we have an adorable 19 month old son named Logan. We live in Virginia Beach and enjoy traveling all over the world, cooking and eating foods from all cultures, and exploring the world with our son.