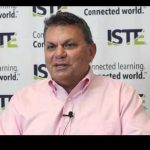 Ira Socol
Director of Educational Technology and Innovation
Albemarle County Public Schools
Educational Leadership Experience
Since coming to Albemarle County I have been able to lead teams focused on Learning Technologies, including 1:1 implementation, classroom innovation, library re-design, learning space modernization, and internal grants. In all cases we have focused entirely on the needs and aspirations of kids, putting our adult preferences at the back of the line. In addition I was part of the team that developed our Seven Pathways, our guide to professional learning and our promises to our students. Previously - in Michigan - I led the development team for the Freedom Stick, an 'everywhere' accessibility tool for computers, and spent almost 2 years introducing that tool throughout Michigan's 548 school districts - as well as nationally. Going further back I helped create one of Michigan's first internet-in-every-classroom, multiple-computers-in-every-classroom, and teachers-with-laptops high schools back in 1996, and a few years later helped develop one of the nation's most extensive campus networks of fully accessible UDL computer stations at Grand Valley State University in 1999. I have tried to discuss student led technology in presentations and keynotes across the nation and in Europe for almost 20 years.
Vision for VSTE
We need VSTE to continue its leadership, and its voice, on behalf of this century's children. Our challenge, in this highly diverse state, is to better support our peer-to-peer professional social network so that everyone, rural, suburban, or urban, teacher, tech staff, or division leadership, has a just-in-time cohort of understanding peers who can help us through the difficult moments. This requires building both our online and our face-to-face "meet up" presences, and forces us to look beyond the ways educators have often learned together - and toward adoption of contemporary meeting designs.
Biographical Sketch
It's an unusual educational background. I have been a New York City Police Officer, I've studied fine art, architecture, juvenile justice, I've never much liked being in school - though obviously I've been in schools an awful lot. I've worked with kids at every educational level, and that includes work in a mission for the homeless. I'm dyslexic, ADHD, and some might say oppositionally defiant. But I'm passionate about what great technology and trust in children can create.