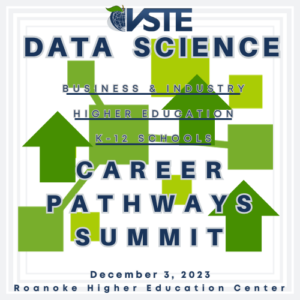 The VSTE Data Science and Career Pathways Summit will advance conversations in data and computer science career pathways across K-12 education, higher education,  business and industry, and other professional organizations. The Summit will convene a diverse panel of experts that discuss current issues and challenges in K-12 education related to data science and computer science, a higher education panel that discusses the role of higher education in these areas, and a business and industry perspective on the skills needed to fill data science jobs in the Commonwealth and the nation. These careers require mathematical knowledge, advanced technological and computational skills, and competencies in data analytics and visualization.  Attendees will be given the opportunity to participate, network, and engage in these critical conversations with experts around the Commonwealth. Attendees will also be asked to make a commitment to supporting and advancing this work after the Summit.  The cost to attend the DSCP Summit is $75. Please register below.
Already Registered for VSTE23?!?
Ask rodcarnill@vste.org about adding your registration to this event. Contact Rod Carnill for the coupon code before registering!