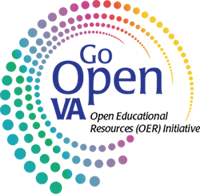 Jean Weller, VSTE Board Member and VDOE Technology Integration Specialist, leads the #GoOpenVA initiative in Virginia. This collaborative initiative enables educators and others throughout Virginia to create, share, and access openly-licensed educational resources (OER, also known as open education resources). OER are free digital materials that can be used or modified to adjust to student needs; they are openly-licensed unhampered by many traditional copyright limitations.
The database is growing. Jean recently created a collection for resources specifically related to professional learning. Technology coaches from across the state have contributed and you can learn more here.
We asked Jean to periodically curate a few of the resources to give a sense of what is available. Start with these but stay for so much more! And be sure to follow Jean on Twitter.
Remixes, or adaptations of lesson plans, are one of the great strengths of OER.  Below are two remixes of plans from outside Virginia, but customized to our SOL by our own Virginia teachers. Then there is the learning object that is user-ready but which you can remix to make your own!
Viaduct on the Baltimore and Washington Railroad Lesson Plan, from Janet Page of Nelson, is a remix of an OER lesson plan which is not on #GoOpenVA currently. Her remix is excellent and includes all the information you need to implement a lesson in reading…using art!
Shopping Spree – Remix is an adaptation of an older lesson from our neighbors in North Carolina.  The lesson asks students to apply math to an everyday situation.  Laura Brown of Loudoun updated the lesson to use digital resources rather than print, and to adjust the activity for older students.
Parts of a Computer, developed by Dana Smith of Tazewell, is exactly what teachers need! Everyone will be working to address the new Computer Science standards and it's nice to know you don't have to create ALL of your own materials.  Dana put together a nice short presentation on the parts of a computer, along with clear illustrations.  Use it as is, or adapt it for your own students.