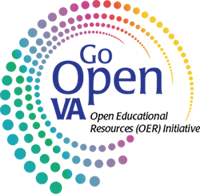 Jean Weller, VSTE Board Member and VDOE Technology Integration Specialist, leads the #GoOpenVA initiative in Virginia. This collaborative initiative enables educators and others throughout Virginia to create, share, and access openly-licensed educational resources (OER, also known as open education resources). OER are free digital materials that can be used or modified to adjust to student needs; they are openly-licensed unhampered by many traditional copyright limitations.
The database is growing. Jean recently created a collection for resources specifically related to professional learning. Technology coaches from across the state have contributed and you can learn more here.
We asked her to periodically curate a few of the resources to give a sense of what is available. Start with these but stay for so much more! And be sure to follow Jean on Twitter.
Investigating Force: This student-facing lesson from Jane Brown of Hanover, young students think about forces and design an investigation. A PhET simulation is used to encourage the students to delve deeper.
https://goopenva.org/courseware/lesson/1637/overview
Three Takes on One Resource--All Spanish Tenses Chart Classroom Uses:  Three different World Language teachers looked at this simple tool from Spanish411 and determined how they would want to use it with their own students.
David Eifert of Prince William
Katie Sokoly of Stafford
Christina Dudley of Poquoson
What Do You Notice? Tina Fuller of Buchanan wrote an inquiry lesson on proper fractions, improper fractions, whole numbers, and mixed numbers. This could be adapted into an online activity, using break-out rooms for student collaboration.