VSTE is pleased to bring the TEACH WONDER 
Professional Learning Program to Virginia Schools
Virginia's recent adoption of K-12 Computer Science Standards has made computational thinking and coding part of every educator's vocabulary throughout K-12. Robots offer an engaging way to integrate these skills across content areas and grade levels. VSTE, in partnership with Wonder Workshop, is pleased to be able to offer the Teach Wonder program to educators in Virginia.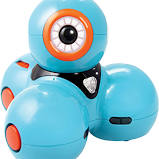 Educators who participate will receive a Dash robot and access to a self-paced online course related to the foundations of coding and robotics. Teachers may be able to apply the 12-hour course towards PD hours.
Cost: $125 ($450 value) for course + Dash robot
Instructions for obtaining a discount coupon are further down this page.
More About Wonder Workshop
Wonder Workshop is committed to accelerate the adoption of computer science principles into 21st-century classrooms. Teach Wonder supports educators as they integrate coding and robotics skills into everyday teaching and learning.
The first in a series of online courses to come from Wonder Workshop, Introduction to Coding and Robotics with Dash & Dot contains six two-hour modules for teachers to complete at their own pace within a 90 day period. Educators can dive into theory and practice new concepts with creative and reflective learning activities, all while connecting with a larger community of like-minded educators from across the country. Teachers may be able to apply the course towards PD hours or CEUs.
Gain a broader understanding of how coding and robotics fit into your everyday teaching with Wonder Workshop's foundational course (~12 hours). Explore how computer science introduces new tech tools, addresses best practices of learning theory, complements thoughtful instructional design, and impacts classroom environments. Delve into the why before tackling the what and the how of Wonder Workshop's CleverBots, Dash & Dot.
The scope and sequence of the course are designed to instill confidence in teachers of all coding levels and to build the knowledge and skills needed to bring state-of-the-art coding and robotics experiences into every classroom.
To participate in the TEACH WONDER program:
1.  Complete this form to request your redemption code from VSTE (NOTE: One redemption code will be issued per user and is only good for one discount). VSTE will use the email provided in the form to send you a discount code.
2.  To redeem codes, educators will need to visit this Wonder Workshop link.
3.  Next you will choose ADD TO CART  the Teach Wonder Training Course + Robot Bundle.
4.   At your Shopping Cart, choose CHECKOUT.  You will input the redemption code you receive from VSTE to get the reduced price of $125 at checkout.
PLEASE NOTE: VSTE recommends paying with a credit card for the Teach Wonder program using our redemption codes. When trying to use the PO payment method you will get an error stating "Invalid code".
If you wish to use the PO payment method or would like to do a group purchase with multiple codes on one PO please go the the following link for instructions:
(Instructions at the bottom of this National Partner's webpage)