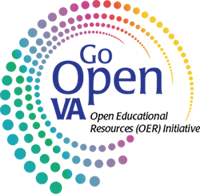 Jean Weller, VSTE Board Member and VDOE Technology Integration Specialist, leads the #GoOpenVA initiative in Virginia. This collaborative initiative enables educators and others throughout Virginia to create, share, and access openly-licensed educational resources (OER, also known as open education resources). OER are free digital materials that can be used or modified to adjust to student needs; they are openly-licensed unhampered by many traditional copyright limitations.
The database is growing. Jean recently created a collection for resources specifically related to professional learning. Technology coaches from across the state have contributed and you can learn more here.
We asked Jean to periodically curate a few of the resources to give a sense of what is available. Start with these but stay for so much more! And be sure to follow Jean on Twitter.
This week, VSTE Board member Heather Hurley shares some of her favorite resources.
Heather says, "I wanted to share some resources to help teachers who are in a hybrid model or are about to begin Hybrid/Concurrent. Below are three resources to help teachers plan for virtual, concurrent or hybrid and the fourth resource is a lesson on conducting a research project virtually."
Teaching Digitally- A FREE Resource Guide for ANY K-12 teacher
Teacher Nadine Gilkison is a District Level Tech Integrator in Illinois and has put together a Google resource full of tips and links to tools for those trying to get a good handle on online/blended learning. It goes beyond just using the tools and considers pedagogical implications and challenges as well.
Planning for Success (Expectations part 1) and Planning for Success (Expectations Part 2)
Donovan O'Brien of Culpeper, VA provides these video recordings of a presentation on Blended and Remote Learning Models, which covers expectations. He offers very practical ideas that can be implemented easily.
Distance Learning & Personal Research Projects
Check out how a Science 6 CLT from Arlington, VA partnered with the school librarian, resource teacher for the gifted (RTG), SPED teacher, and English Learner (EL) teachers to engage and support all students in a personal research project...remotely!  They are sharing their project resources, experiences, and how this project personalizes distance learning.