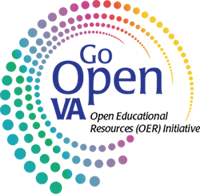 Jean Weller, VSTE Board Member and VDOE Technology Integration Specialist, leads the #GoOpenVA initiative in Virginia. This collaborative initiative enables educators and others throughout Virginia to create, share, and access openly-licensed educational resources (OER, also known as open education resources). OER are free digital materials that can be used or modified to adjust to student needs; they are openly-licensed unhampered by many traditional copyright limitations.
The database is growing. Jean recently created a collection for resources specifically related to professional learning. Technology coaches from across the state have contributed and you can learn more here.
We asked Jean to periodically curate a few of the resources to give a sense of what is available. Start with these but stay for so much more! And be sure to follow Jean on Twitter.
Our Collections are growing!  We have lots of new lessons added to the VDOE Science and VDOE Fine Arts Collections.  And many new lessons for all grade levels have also been added to the Virginia K12 Computer Science Pipeline.
Here's a sampling of lessons added.
Ways to Bond: How Elements Become Compounds is one of the lessons created by the VDOE Science team to help teachers integrate the 2018 Science SOL. This particular lesson is focused on HS Chemistry, and includes comprehensive instructional support for the teacher.
Instructional Plan: Music Career Exploration comes from the VDOE Fine Arts team, and is a very timely activity for students in middle school. Students pursue their own paths, with guidance and feedback from the teacher. The plan can be easily implemented during remote learning.
Do You Want to Build a Snowman CS Digital Slides Activity was created through the GO Virginia grant in partnership with Chesapeake Public Schools, Loudoun County Public Schools, and the Loudoun Education Foundation. This is a fun elementary student activity to help students learn about algorithms, and can be used by students in or out of the classroom.
If you reuse or remix one of the lessons, please let us know. If your remix or other resources are featured, you will earn the #GoOpenVA badge!