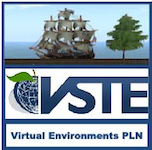 The Virtual Environments Professional Learning Network (VEPLN) will be hosting Dr. William Schmactenberg on Monday, March 11, 2019 on VSTE Island In Second Life discussing Unity 3D. More schools are using modern day game engines to help student create digital projects in programs such as Unity 3D. Unity 3D can be used to create high quality Educational games and Virtual Reality simulations. We can also have a general discussion of what games should be used in schools.
Second Life is free to access. You need an account and software to access the virtual world.
We recommend setting up an account at the Rockcliffe University Consortium's Gateway here: https://urockcliffe.com/reg/second-life/ Download and install the software. While your Second Life viewer (software) is open click this link http://maps.secondlife.com/secondlife/VSTE%20Island/61/104/22 and voila! Look for an avatar on VSTE Island and say, "Hey, I'm new!" We will take care of the rest.