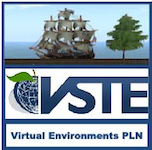 For over 10 years, the VSTE Virtual Environments Professional Learning Network has maintained VSTE Island, a full region in Second Life, as part of our professional development program. With a shift in focus to expanding to other virtual environments, we have decided to downsize and move to a parcel on the Second Life Mainland, with significantly lower costs. The new parcel will be revealed on Monday, August 19, 2019 at 8:00 pm EDT (5:00 pm SLT/Pacific time).
The VE PLN will very much still be in Second Life and other virtual worlds, meeting (almost) weekly on Mondays at 8pm Eastern time. Minecraft Monday will continue on the first Monday of the month at VSTE Place, our shared Minecraft server. Our other excursions will include Opensim on Avacon, Unity (including SineSpace and ViWoLe), and other virtual environments new and old. As VSTE Island Facilitator Kim Harrison says, "We need to be good stewards of VSTE's funds." By downsizing in Second Life, we are able to expand into other worlds and online communities.
We would encourage anyone to try Second Life for professional learning and networking. According to Beth S. O'Connell, another VSTE Island Facilitator, "Although Second Life is not ideal for K-12 instruction, it's essential for networking between educators. Second Life is the crossroads and is used for instruction by colleges and universities worldwide. Familiarity with virtual worlds is an additional kind of literacy needed by tech-savvy educators." Virtual worlds are already part of the Virginia Computer technology standards CT9-12.15.  For getting started with Second Life and setting up an account, the VE PLN suggests using the Rockcliffe University Consortium's Gateway at https://urockcliffe.com/reg/second-life/.
Upcoming VSTE VE PLN Events:
Monday, June 3: Minecraft Monday with the VE PLN
Thunder and Jaz will show us how to build a Creeper trap! If you're not already whitelisted at VSTE Place, our Minecraft server, contact k4sons@gmail.com for information on attending.
Monday, June 17: Come Sail the 5Cs With Us
Please join us in Second Life at a temporary location as Thunder and Bluebarker help us understand how one assesses creativity, collaboration, critical thinking, citizenship, and communication. We navigate the particulars of identifying different ways to incorporate the 5Cs into lessons with Web 2.0 tools and New Media Technologies.
Monday, June 24: End of the School Year Party
Please join us in Second Life at a temporary location, as we dance the night away with music from a DJ and Greedy table games for those who want a challenge. We'll have good times as we celebrate the end of another school year past. With some chapters coming to a close and others starting anew, it doesn't matter how you see it, celebrating with friends makes it all the more exciting.