Join the fastest growing network of certified coaches in Virginia!  The VSTE Certified Coach program (#VCC) is now accepting applications for its 2024-2025 cohorts.  This program was created by VSTE to provide a custom professional learning experience for instructional coaches that allows them to collaborate in cohorts while learning the art of coaching.  The VCC curriculum is aligned with the ISTE standards for coaching and has been developed in partnership with Forward Edge, an Ohio based company that specializes in instructional coaching.  Although originally developed with EdTech Coaches in mind, the VCC program is open to all instructional coaches in Virginia.
All coaches who complete the VCC program will:
Have a clear understanding of their role as an educational technology coach.
Think systematically about the role their coaching program plays in larger district goals and initiatives.
Approach technology integration from a learning objective first mindset.
Be prepared to incorporate formal coaching cycles into their coaching program.
Create and market professional learning experiences founded in andragogical best practices that are personalized, memorable, and lead to classroom implementation.
Possess a strong skill set for building relationships and deepening coaching conversations with educators.
Utilize data to make informed decisions about their work as a coach and the needs of educators they support.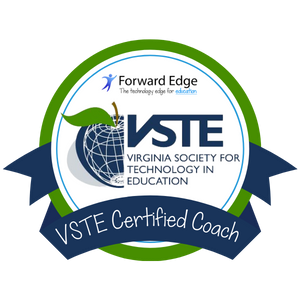 Over the past year, hundreds of Virginia coaches have joined the VCC and VSTE has developed the VCC Professional Learning Network to provide continued support, professional collaboration, and opportunities for growth to all VSTE Certified Coaches.  You can become a part of this amazing PLN by applying for one of the 2024-2025 VCC cohorts.  Act fast - applications close on December 15th, 2024.
The VCC Application Details
Interested coaches will need to determine which cohort they wish to register for based on their experience and availability.  There are three VCC cohort options for the 2024 VCC Application: spring semester, fall semester, and full year.  The spring semester cohorts will run from January through May and will meet twice each month. The fall semester cohorts will run from August through December and will meet twice each month.  The full year cohorts will run from  September through May and will meet once every month. Newer coaches are recommended to register for the full year cohorts in order to allow more time between learning experience to grow their practice, but all applicants can indicate their preference within the registration form.
Interested coaches will need to fully understand the expectations of the VCC program and should obtain approval from a direct supervisor.  There will be meeting times that will occur during regular working hours, and there is an expectation that participating coaches will commit to the meeting times and participate during those sessions.  In order for candidates to be successful, supervisors will need to be supportive of a coach's participation and made aware that there is a cost of $300 per participant associated with the VCC program.
The 2024 VCC Application Deadline is December 15th, and all applicants will be notified on or before January 5th of their acceptance.  The first meeting of each cohort will be announced in advance, and subsequent meeting times will be determined by a cohort poll.  Arrangements for the payment of $300 must be made prior to the first cohort meeting.  Divisions interested in hosting a division-wide cohort should contact Rod Carnill, VSTE Executive Director.