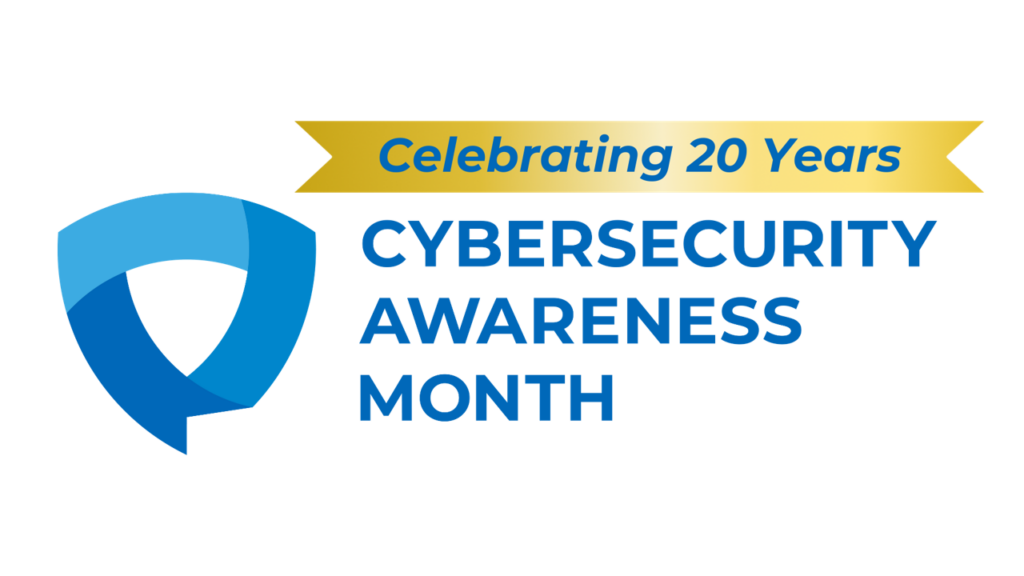 During the month of October, the Cybersecurity and Infrastructure Security Agency (CISA) and the National Cybersecurity Alliance (NCA) partner to celebrate Cybersecurity Month and they have been doing so for 20 years. I am not really sure if Cybersecurity Awareness Month is one I want to necessarily celebrate, but I do know it is incredibly important to build awareness.
Educators play a crucial role in ensuring the security of both their own data and the data of their students. Here are 5 cybersecurity tips to help you promote cyber safety!
Strong Passwords and Authentication:
First on the list because it is so important, ensure that you have strong, unique passwords for all your accounts, especially those related to school networks. Use a combination of letters, numbers, and special characters to construct your passwords. There are likely requirements in place for the combinations and length required. If there are no requirements, make sure you turn on two-factor authentication for that account.
Implementing two-factor authentication (2FA) whenever possible adds an extra layer of protection to your accounts. Two-factor authentication typically requires the use of your email or phone to claim a code used to login and access an account. Your school or district may require 2FA and also may require changing passwords frequently. Both are good precautions.
Remember to use completely different passwords for your school accounts and your personal accounts. You shouldn't really use the same password for any two accounts, however, memorizing all those strong and unique passwords is a challenge and that is why password keepers and 2FA are so important.
Protect Student Data:
Safeguard sensitive student data, such as grades, attendance records, and personal information. Simply put - Know Your School/District Data Protection Policies. Make sure you have read and understand the policies. If you don't know where to find them - ask.
Update and Secure Devices:
Ensure that your computer, tablet, smartphone, and any other devices you use are regularly updated with the latest security patches and software updates. Use antivirus and anti-malware software to protect against threats. Phones are also vulnerable and you should really think twice about using your school accounts on your phone. If you do, use a long and strong passcode and facial recognition if available as protections against unwanted access to the device.
Stay Informed about Cyber Threats:
Keep yourself updated about current cybersecurity threats and best practices to recognize them. Staying informed about the latest trends in cyber crime will help you combat against becoming a victim. Think before you click. Don't fall for the Phishing attempts or the 'clickbait' that land in your inbox or your social feeds. See the link in Resources below for the details.
Know Who to Call if it Happens to You:
A Password Keeper is a good idea. This will make it easier to quickly update passwords, especially if you have been a victim or suspect you have been a victim of a cyber attack. Prioritize where to start. Start with the password to your email account connected to the attack.
Experts recommend that you have a call list ready incase you do fall victim to a cyber crime. Do you know who to call? (law enforcement, financial institutions, credit card companies, credit reporting agencies, lawyers, Insurance companies, relatives and close friends who might be vulnerable)
In addition to these tips, educators should also:
Use secure, password-protected Wi-Fi networks when accessing school-related materials or systems remotely. If you are in public places like airports, restaurants, even medical offices - don't log in from the Wi-Fi. If you must ask for a password protected network or use your phone as a hotspot.
Educate students about cybersecurity best practices, including protecting passwords, safe internet usage and recognizing/reporting threats online.
Report any suspicious online activities or cybersecurity incidents to your school's IT department or designated school authorities promptly.
Be aware of and familiar with your school's cybersecurity policies and procedures, and adhere to them diligently.
Back up essential teaching materials and resources regularly to prevent data loss in case of cyber incidents. Offline and Offsite is best, if an attack happens you may not be able to access your school accounts, devices, or resources.
By following these cybersecurity tips, teachers can contribute to a safer digital learning environment for both themselves and their students.
Resources:
https://www.phishing.org/10-ways-to-avoid-phishing-scams
https://www.commonsense.org/education/articles/teachers-essential-guide-to-cybersecurity\
https://www.k12dive.com/spons/un-complicating-cybersecurity-3-ways-to-teach-students-about-cybersecurity/620669/