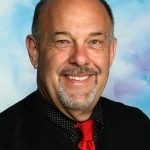 David French
Principal and Digital Learning Leader
Virginia Beach City Public Schools
Educational Leadership Experience
I am in my 29th year in education. The past 15 years have been as an elementary school principal. All of my experience has been in the Virginia Beach Schools. The past 7 years have been very exciting and rewarding to have been a leader in digital learning transformation.
Vision for VSTE
Schools are now more than ever challenged with how to meet the needs of today's learner- a different kind of learner. Teachers, administrators and leaders must be provided with leadership to encourage and assist with their growth and transformation as digital educators. The role of the educator in our world is quickly evolving from a traditional instructor to a digital, personalized facilitator of learning. Our schools need leadership to help with the transformational learning process and challenge we face.
Biographical Sketch
I have been in public education for 29 years as a teacher, Assistant Principal, and Principal. I was presented with the 2012 Region II VDOE/VSTE Instructional Technology Leadership Award. For the past 3 years, I have been a presenter on digital learning and transformation at local, state and national conferences including VSTE, FETC, ISTE. I am also currently a co-presenter with Amazon Education on digital instruction.