VSTE is pleased to partner with the Virginia Department of Education and the Alliance for Excellent Education to sponsor several events for Digital Learning Day 2020. This year, the day will be held February 27, 2020.
VSTE and VDOE will be focusing on the #GoOpenVA OER initiative and portal that opened at the beginning of the year. For Digital Learning Day 2020, the VDOE and VSTE will highlight the #GoOpenVA open educational resources platform recently launched on January 24 with the following activities:
Twitter Celebration from 9 a.m. to 4 p.m. at the GoOpenVA hashtag (see suggestions on #GoOpenVA).
#GoOpenVA webinar at 3 p.m. (Zoom Meeting ID: 350 886 828)
VSTE Workshop-in-a-Box webinar at 4 p.m.
VSTE webinar with 2019 Technology Award winners at 7:30 p.m.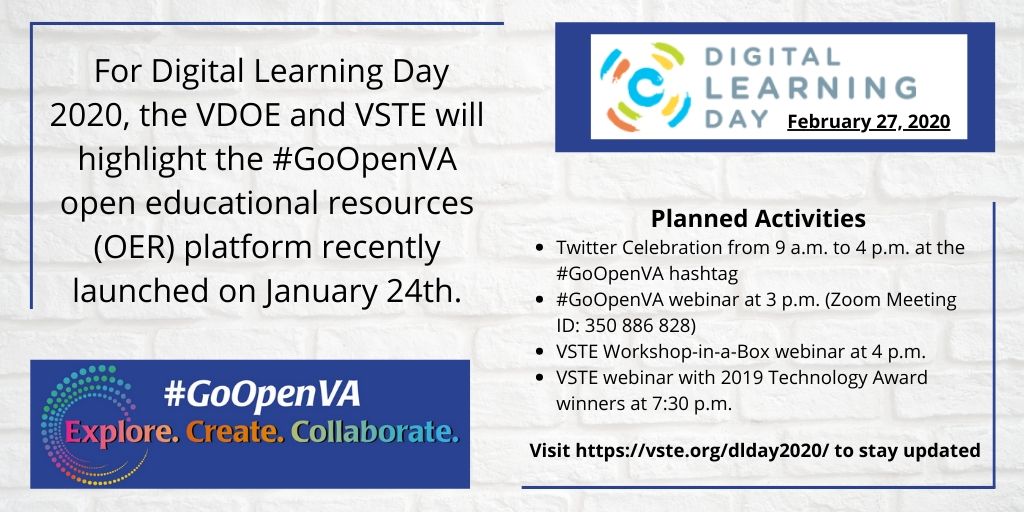 Check back for more information and keep an eye on the VSTE newsletter. Don't get the newsletter? It's part of the free VSTE membership. Learn more.