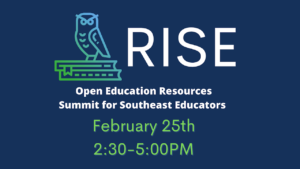 Are you feeling isolated and alone about your teaching experiences in your digital classroom? Join us for a FREE virtual collaboration event to learn together and RISE above the challenges of teaching in (and after) a pandemic.
RISE Online OER UnConference
February 25, 2021
2:30 pm - 5:00 pm (EST)
Be a part of an exciting collaborative UnConference led by North Carolina and Virginia to celebrate the 10th annual 2021 Digital Learning Day. Both states have sites for openly-licensed digital resources (OER), where teachers can connect, grow and share.
We are inviting educators from all grade levels,content areas, and educational roles, giving you a chance to connect with colleagues who have similar concerns and interests.
The theme of our UnConference is "Rise", one of the monthly themes from Digital Learning Day. The afternoon will focus on sharing which materials, strategies and tools helped you, your fellow educators, and your students "Rise" in 2020.
Come to give and come to get as we celebrate how Digital Learning and sharing openly licensed resources can truly help educators not only reinvent, but rather rise above challenges.
Register HERE for free by 5:00 pm EST on February 24th!
Pre-work
We're so glad to have you register for the NC/VA UnConference on February 25th - the 10th annual Digital Learning Day. This UnConference will include discussion about OER - openly licensed resources. Please watch this video on "What is OER?" and then comment on this Padlet about "Which R most relates to how you use digital learning resources?". Then watch either the GoOpenNC video if you're from NC or the GoOpenVA video if you're from VA.