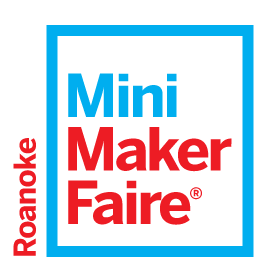 The Call for Proposals is open now for the Roanoke Mini Maker Faire, being held February 22, 2020, 12 - 4 PM, at The Science Museum of Western Virginia, in Roanoke, Virginia. The Museum and the Virginia Society for Technology in Education are partnering for the third year to feature student makers.
What are we looking for? Students in the southwest region of Virginia* who MAKE things in all sorts of ways! If you like to automate, build, change, code, collaborate, compose, connect, construct, cook, create, crochet, deconstruct, design, draw, dream, dream up, experiment, fabricate, film, fix, fold, hack, innovate, inquire, invent, knit, learn, make, model, mold, observe, paint, participate, photograph, play, print, program, recycle, sew, share, teach, test, tinker, upcycle, write, or make things in any other way, we want you!
If you know or teach students like this or you ARE a student like this, please consider submitting your proposal: the Call for Proposals closes soon.*
The event is free but registration is encouraged. Learn more at the website.
Maker Faire originated in 2006 in the San Francisco Bay Area as a project of the editors of Make: magazine.  It has since grown into a significant worldwide network of both flagship and independently-produced events.  Read more on Maker Faire history, the Maker Movement, as well as how to start a Maker Faire or a School Maker Faire where you live.