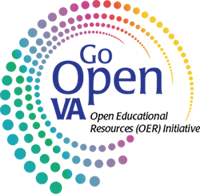 Jean Weller, VSTE Board Member and VDOE Technology Integration Specialist, leads the #GoOpenVA initiative in Virginia. This collaborative initiative enables educators and others throughout Virginia to create, share, and access openly-licensed educational resources (OER, also known as open education resources). OER are free digital materials that can be used or modified to adjust to student needs; they are openly-licensed unhampered by many traditional copyright limitations.
The database is growing. Jean recently created a collection for resources specifically related to professional learning. Technology coaches from across the state have contributed and you can learn more here.
We asked Jean to periodically curate a few of the resources to give a sense of what is available. Start with these but stay for so much more! And be sure to follow Jean on Twitter.
We're starting the new year off with some great lessons contributed by Virginia educators!
"The Moth" Pod Activity lesson plan, from Virginia Beach educator Macy Pniewski, uses a storytelling podcast called "The Moth" to address several 9th grade English SOL.  Listening, of course, is a skill that needs to be practiced at all ages, as is the self-reflection built into the activity.
Domain and Range: To Infinity and Beyond is an Algebra 1 Desmos activity provided by Javier Cabezas of Henrico County.  The lesson link takes you to the Desmos teaching website so you can use this with your own Desmos tool. It is an exploratory lesson that leads students to understand how to describe domain and range with set notation and interval notation.
Regions of Virginia and Art was developed by a team of Chesapeake teachers: Jamie Marquitz, Jessica Brown, Candice Anthony-Cazenave, and Amy Erb.  This cross-curricular lesson addresses the study of the various regions of Virginia while introducing students to an intriguing art technique using colored pencils.
If you reuse or remix one of the lessons, please let us know. If your remix or other resources are featured, you will earn the #GoOpenVA badge!