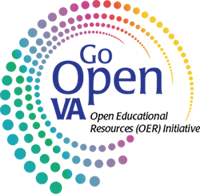 Jean Weller, VSTE Board Member and VDOE Technology Integration Specialist, leads the #GoOpenVA initiative in Virginia. This collaborative initiative enables educators and others throughout Virginia to create, share, and access openly-licensed educational resources (OER, also known as open education resources). OER are free digital materials that can be used or modified to adjust to student needs; they are openly-licensed unhampered by many traditional copyright limitations.
The database is growing. Jean recently created a collection for resources specifically related to professional learning. Technology coaches from across the state have contributed and you can learn more here.
We asked Jean to periodically curate a few of the resources to give a sense of what is available. Start with these but stay for so much more!
Collaboration is the key to open education resources and learning. Check out these collaborations to find ways to enhance your practice.
Sharing Sessions Notetaker Document
On the 2021 Digital Learning Day, North Carolina and Virginia jointly sponsored an Unconference, allowing educators from both states time to share all the great resources they found in this past year of learning during the time of COVID. We focused on things that helped teachers keep their sanity, and also the things that they think will allow us to rise up like a phoenix from this ash-y year.  See what your fellow educators found helpful!
The VDOE Office of STEM staff have been adding all the new SIPs (Science Instructional Plans) that assist teachers to align science instruction with the 2018 Science SOL. More are being added daily so keep checking if you don't find what you are looking for!
MEP-3 Days 1-5 Lesson Plan (Teacher Copy)
Jennifer Sassamo, the Supervisor of Instructional Facilitators for Specialized Reading and Math in Loudoun County and four Specialized Instructional Facilitators of Reading (Dr. Tiffany Brocious, Kristen Kipps, Erin Savage and Jennifer Douglas) came together to develop one incredible resource  This is a gift to Reading specialists who are not so lucky to have a team to work on an innovative resource.  I can't improve on their concise description: Multi-sensory Explicit Phonics for Tier 3 Reading Invention provides a fully scripted reading program, assessment tools, scope and sequence, teacher and student instructional materials and embedded professional learning through an overview and modeling, all in one.
[Before publishing add the post to these categories: Front Page Middle, GoOpenVA, VSTE Partners. Add any keywords related to the resources in the Tags field. In Set featured image, add the GoOpenVA logo.]
[Don't forget to delete all the direction text enclosed in brackets before publishing!]