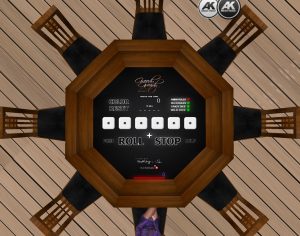 Greedy and Networking
Monday, November 18, 2019, 8-9 PM Eastern time (5-6 PM SLT)By far the most popular game in Second Life, and many other virtual worlds, is Greedy. It's called Farkle in the Facebook games list. It's a game of chance but involves a little skill, easy if you know probability.
Come play with us! To encourage you we are giving Linden
prizes: L$500 for top score, L$300 for second place, and L$100 for third place. See directions for accessing Second Life below.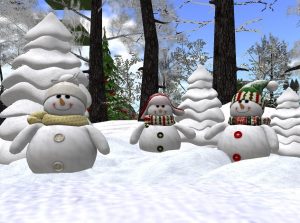 Building Workshop for Building Contest Kickoff
Monday, November 25, 2019, 8-9 PM Eastern time (5-6 PM SLT)VSTE VE PLN will hold a building class to teach SL novice building skills in order to kick off a fun "snowbeing" building contest. You will learn how to create simple shapes and more them together in order to make a creative snow scene. We guarantee you can build a simple snowman in ten minutes or less. All you need is your imagination to create something truly special, be it funny, meaningful, ironic, or beautiful! Sometime after the VSTE face to face conference we will each build our snow scenes at VSTE Space for all to enjoy. See directions for accessing Second Life below.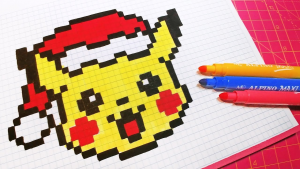 Holiday Pixel Art
Minecraft Monday
Monday, December 2, 2019, 8-9 PM Eastern time
We will meet at VSTE Place, our Minecraft world, and create holiday pixel art. Find a design online or create your own on graph paper before the meeting. This is much easier than cross stitch! If you can share your pattern with a friend, you might get help with your creation! Let's make VSTE Place festive for the season!
Getting up and running with your avatar in Second Life is free and easy:
Set up your account at the Rockcliffe University Consortium's Gateway here: https://urockcliffe.com/reg/second-life/ Download and install the software. While your Second Life software is open, click this link http://maps.secondlife.com/secondlife/Soulgiver/155/144/58 and voila! Look for an avatar on VSTE Island and say, "Hey, I'm new!" We will take care of the rest: http://maps.secondlife.com/secondlife/Soulgiver/155/144/58
Basic directions to join VSTE Place, VSTE's Minecraft world:
You must have a Minecraft account from https://minecraft.net/en/ to join. There is a one time fee of $26.95 to download and install the software. You will need to be whitelisted to enter the VSTE server. Email Kim Harrison at K4sons@gmail.com from an educational email address with your real name and Minecraft account name.
Start the software and choose multiplayer and add a server: Name VSTE Place IP 69.175.17.26:25565
We use Discord to share voices in Minecraft. This is a voice and screen sharing application that will run on your computer or mobile device. Download and install it for free. Create an account. Many of us use the same name for our Discord account as our Minecraft account to keep things simple. Our channel is https://discord.gg/nDX4mZv It helps us to be able to play Minecraft in one screen and listen via Discord with earbuds or headphones.