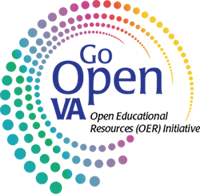 On June 16, 2022, at 7 PM, Jean Weller, leader of the GoOpenVA initiative at Virginia Department of Education,  will tell the thrilling tale of how open education resources and Creative Commons joined forces to defeat the enemies of creativity and teacher empowerment. It has a happy ending!
It's time for a quick refresher in how copyright impacts education and the essentials you need to know, ESPECIALLY if you haven't taken a session on copyright since the world went digital. Then we'll talk about the open education movement and the use of alternative copyright schemas for those interested in supporting freedom of creativity but still mindful of the creator's rights of ownership. This is a worldwide movement that encompasses museums and archives as well as higher education and K-12. Finally, we'll take a look at how #GoOpenVA ensures Virginia educators have the opportunity to learn from each other in a space that enthusiastically encourages sharing, not "stealing."
This event is free but registration is required. 
Register in advance for this copyright meeting
After registering, you will receive a confirmation email containing information about joining the meeting.