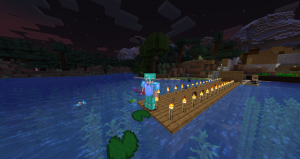 It's that time again! Join us at VSTE place at 8 PM tonight. Minecraft Monday for April 2020 will be fishing data collection.
This is an idea you can replicate with your students! We will meet in survival on VSTE Place and go fishing. We will record time of day, weather, type of rods, and items caught. Everyone will tally their catches in groups of ten. There will be a google spreadsheet to enter your results. What will we learn? Do you get more fish, treasure, or trash? Do we even agree on which items are treasure or trash? Are enchanted fishing rods really better than others? Let's find out! When you get into VSTE Place type /warp survival to meet up with us.
If this is your first foray into Minecraft, you'll need to do a little setup including creating an account and downloading the software. Start here.
How to Join
To join our Minecraft server please email K4sons@gmail.com or lwalconc@gmail.com. If this is your first time, we need your Mojang Minecraft user name and your real name. Thank you for your interest! I will add you to the server in just a moment. The VSTE Place IP address is 69.175.17.26:25565 If you experience any difficulty, please let me know. As a reminder, this server is for educators. If you are using your child's account to participate please do not encourage your child to use our server. We are currently using version 1.15.2.
This Google doc has more info about the server: https://docs.google.com/document/d/1rrwGjJDu3lgZuqZ7udrM8-DAMyofF186a78__ciEem8/edit?usp=sharing