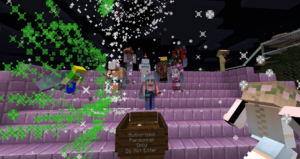 Monday, July 6, 2020, 8 PM
NEW VSTE Minecraft Server
This week we will learn how to build fireworks in Minecraft, and our teacher will put on a spectacular fireworks show! Visit us on the new
Remember we have changed servers since last Minecraft Monday. Please add our new server but keep the old one, too. Directions below.
VSTE Place, our Minecraft Server has MOVED!
We still have the old Beastnode server so don't delete it, but please rename it. It is currently offline but will be used in the future for special events. Maybe VSTE Special Events server would be a good name! Watch for updates about this. Simply click the server in the list and click to edit it.

Please, add a new server with the new address.
The new VSTE server address, with port, is:

Reclaim Hosting
is now hosting the server. There is more memory allocated to it and we should be able to have more participants with less lag.  Joseph Knight did all the required technical things to accomplish the move. Thank you, Joseph!
There is a dynamic map of VSTE Place that is kind of fun to see.
You can even access it conveniently here: