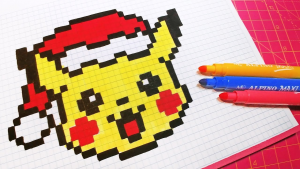 Holiday Pixel Art
Minecraft Monday
Monday, December 2, 2019, 8-9 PM Eastern time
We will meet at VSTE Place, our Minecraft world, and create holiday pixel art. Find a design online or create your own on graph paper before the meeting. This is much easier than cross stitch! If you can share your pattern with a friend, you might get help with your creation! Let's make VSTE Place festive for the season!
Basic directions to join VSTE Place, VSTE's Minecraft world:
You must have a Minecraft account from https://minecraft.net/en/ to join. There is a one time fee of $26.95 to download and install the software. You will need to be whitelisted to enter the VSTE server. Email Kim Harrison at K4sons@gmail.com from an educational email address with your real name and Minecraft account name.
Start the software and choose multiplayer and add a server: Name VSTE Place IP 69.175.17.26:25565
We use Discord to share voices in Minecraft. This is a voice and screen sharing application that will run on your computer or mobile device. Download and install it for free. Create an account. Many of us use the same name for our Discord account as our Minecraft account to keep things simple. Our channel is https://discord.gg/nDX4mZv It helps us to be able to play Minecraft in one screen and listen via Discord with earbuds or headphones.