September 16, 2019, 8 PM, will be an open mic night at the VSTE Space coffee shop. 
Please come prepared to talk about what you read this summer. You might learn about a book to add to your reading list or entice someone to read your selection. Whether it is fiction, non-fiction, education related, virtual world related, sci-fi or something else; just come te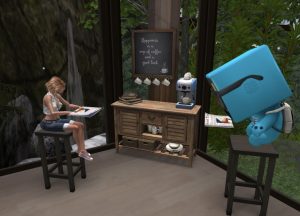 ll us about it! Maybe you didn't have time for a book but you read a blog or listened to a podcast. Please come share. The more the merrier. Lurking is allowed, too!
Join the VSTE VE PLN on VSTE Island in Second Life.
http://maps.secondlife.com/secondlife/Soulgiver/170/144/58
If you don't have a Second Life account get one, it's free. We recommend setting one up at the Rockcliffe University Consortium's Gateway here: https://urockcliffe.com/reg/second-life/ Download and install the software. While your Second Life viewer (software) is open click this link http://maps.secondlife.com/secondlife/Soulgiver/155/144/58 and voila! Look for an avatar on VSTE Island and say, "Hey, I'm new!" We will take care of the rest.