The VSTE CoSN Council is pleased to welcome Mr. Ryan Imbriale as the keynote speaker for the second annual Leading Ed Forum. This event, designed for school division technology and instructional leaders and presented through a partnership of VSTE and the Virginia Department of Education, will be held October 19 & 20, 2017, at Daniel Technology Center in Culpeper, Virginia. Learn more about this event here.
Mr. Ryan Imbriale has spent his leader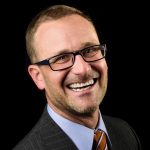 ship career in education focused on how technology can empower student learning.  He is the Executive Director of Innovative Learning for the Baltimore County Public Schools and is responsible for leading the system's digital conversion initiative, S.T.A.T. (Students and Teachers Accessing Tomorrow).  Ryan was previously the Principal of Patapsco High School & Center for the Arts in Baltimore, MD.  Under his leadership, Patapsco was named one of the John F. Kennedy Center for the Performing Arts' National Schools of Distinction in 2009 and recognized by the College Board as the Middle States winner for Excellence and Innovation in the Arts in 2012.  The school developed an active Facebook page, a successful YouTube channel, Twitter account, and a native app for the iPhone developed by students.
Prior to coming to Baltimore County he was facilitator of the Maryland Students Online Consortium, working with 17 Maryland school systems to review, pilot, evaluate, modify, and recommend online courses for students, as well as coordinator for professional development at The Johns Hopkins University Center for Technology in Education. Ryan has extensive experience presenting to audiences on online and blended learning, learner-centered environments, curriculum design, and effective leadership.
Ryan is a Past-President of MSET, Maryland's ISTE Affiliate, and he is a former member of the Board of Directors for ISTE, the International Society for Technology in Education.  In 2008, Ryan was named one of its "20 to Watch" educators by the National School Boards Association (NSBA) and in 2009 was awarded the Making IT Happen award, honoring educational technology leaders around the world for their commitment and innovation.  Tech & Learning magazine named Ryan one of the future leaders in its 100@30 in 2010 as part of the magazine's 30th anniversary celebration.  In 2012 he was named a Phi Delta Kappa (PDK) Emerging Leader and in 2013 the National Association of Secondary School Principals (NASSP) named him a National Digital Principal of the Year. Ryan was honored by Intel® in 2015 as an Education Visionary, an elite group of approximately 40 education leaders from all over the world who will be exemplars for global education transformation. Most recently, he was named to the National Council on Digital Convergence.