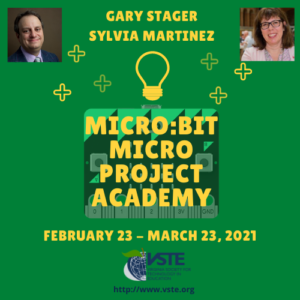 VSTE is pleased to partner with Sylvia Martinez and Gary Stager to present The micro:bit micro Project Academy, a STEM hands-on learning opportunity. Sylvia and Gary will lead participants in a five-week exploration of the BBC micro:bit, a  platform for exploring powerful ideas in computer science, electronics,  engineering, and mathematics. The course will synchronous sessions with Sylvia and Gary, weekly "micro projects" and a collaborative virtual space for ongoing  collaboration, inspiration, and support between classes. Participants will  be encouraged to inspire, challenge, and support one another. 
The course will run from February 23 - March 23, 2021. Live sessions will be held Tuesdays at 7:00 PM and be recorded. 
Each participant will receive two micro:bit Go kits, including the microcontroller development board, USB cable, batteries, and battery box along with other supplies including alligator clips and LED lights. Reference materials, project prompts, and tutorials will be be distributed electronically.
Cost for the course is $75. Registration is open now through February 12. The course is limited to 50 participants. 
In addition to exploring electronics, mathematics, computer science, and engineering topics through  hands-on activities, the course will discuss pedagogical choices and approaches to project-based learning.  Participants will learn by tackling a series of open-ended projects and share their experiences with the  community.
Specific topics:
Block programming  

Circuits and switches  

Sensors and feedback  

Iterative, generative, and notional design  

Probabilistic behavior  

Logic and problem solving  

Debugging strategies  

Robotics and computer control  
Audience is K-12 educators. Basic computer operations are assumed. No specific prior knowledge is necessary. 
About the course designers/leaders
Gary Stager, Ph.D. is a journalist, teacher educator, consultant, professor, software developer, publisher,  and school administrator. An elementary teacher by training, he has taught students from preschool  through doctoral studies. In 1990, Dr. Stager led professional development in the world's first laptop  schools and played a major role in the early days of online education. Gary is the founder of  the Constructing Modern Knowledge summer institute for educators.  
Dr. Stager's work has earned a Ph.D. in Science and Mathematics Education and he collaborated on a  project that won a Grammy Award. Recently, Gary was invited by Fondazione Reggio Children to lead a  public seminar on education in Reggio Emilia, Italy.  
Sylvia Martinez is a former aerospace engineer and co-author of the book, Invent to Learn: Making,  Tinkering, and Engineering in the Classroom, called "the bible of the classroom maker movement."  Sylvia speaks to and works with schools around the world and is president of Constructing Modern  Knowledge Press, creating books and professional development advocating using modern technology for  learning. Sylvia is also principal advisor to the Columbia University FabLearn Fellows, a research group  of global educators sharing hands-on, minds-on projects and curriculum. She also led educational non profits and headed product development for consumer software, video games, and educational games at  several software publishing companies.  
Martinez started her career as an electrical engineer designing high frequency receiver systems and  software for the GPS navigational satellite system. She holds a master's in educational technology and  a bachelor's in electrical engineering.