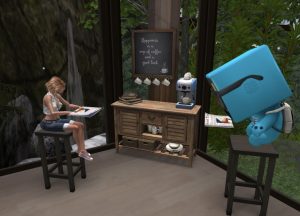 Monday, August 26, 5 PM SLT, 8 PM Eastern
Over 30 of us danced the night away on Monday, celebrating the grand opening of VSTE's new space in Second Life. This virtual world encourages your creativity as you design your own avatar and fuels your curiosity as you explore the 3D worlds. VSTE will have a full schedule of professional development in Second Life this year so now is a great time to learn something new and connect with educators across the country.
But before the learning...a little more fun.
Come help us say goodbye to summer with a tour of two water parks and one community in Second Life. You will experience huge water slides, gentle floats, and jet skis with friends. Help is available for those new to SL. Just come early.
We will start at VSTE Space and visit Lincoln County Water Park and JK's Water Park, each for about 20 minutes. We will end our tour with jet ski rides at Ocean Bre's, a popular 70s role play sim. Race or tour, and spend as much time as you like here. 
http://maps.secondlife.com/secondlife/Soulgiver/170/144/58
If you don't have a Second Life account get one, it's free. We recommend setting one up at the Rockcliffe University Consortium's Gateway here: https://urockcliffe.com/reg/second-life/ Download and install the software. While your Second Life viewer (software) is open click this link http://maps.secondlife.com/secondlife/Soulgiver/155/144/58 and voila! Look for an avatar on VSTE Island and say, "Hey, I'm new!" We will take care of the rest.