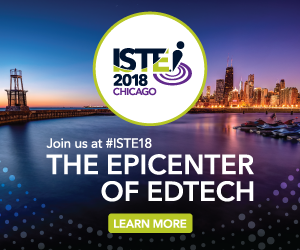 A special message from Susan Larson, Senior Director, Affiliate Relations, ISTE:
We know you are energized from just finishing your conference. We heard great things about the important work you are doing across your state and we want to help support your efforts with this special offer. Because VSTE is a valued affiliate of ISTE, you can join ISTE or renew your current ISTE membership and enjoy a $35 discount through January 5, 2018!
As an ISTE member you can access some of the most exciting content from the ISTE conference, including keynotes by Jennie Magiera and Reshma Saujani, thought-provoking Ignite sessions and dozens of sessions on the hottest edtech topics. Join any of our Professional Learning Networks at no cost, and learn from experts sharing best practices and solutions about the challenges you face. Extend your reach not just across the state but around the country and world. There are plenty more benefits of ISTE membership. Join or renew today. To receive your $35 discount, apply the code VSTE18  during checkout.
Thanks again for the important work you and your teams are doing to transform learning. We hope to see you soon in our communities or at ISTE 2018!