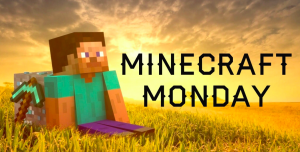 Minecraft Monday April 9 at 8 PM EDT will be a chance to build and share potential student projects. 
Join the group to see what everyone has been building this week. Learn more here.
Start NOW by creating a 3D model at VSTE Place /warp schoolwork
Display something you'd have your students create. Find a lesson in your curriculum that might normally be done with manipulatives or as a 2D diagram. Create it in one of the spaces provided and we will tour them on the 9th!
Feel free to use more than one space if you have several ideas. Be sure to put out signs as to grade level, subject, builder...
In order to access VSTE Place, you will need a Mojang account and the Minecraft software. Contact Kim Harrison, K4sons@gmail.com, with your Mojang name so she can whitelist you and provide the server access information. You will also want to get involved with the .