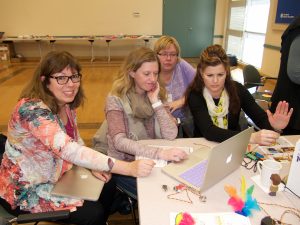 NOTE: This event has been postponed until October 2020. If you were registered, check your email with information about tickets and refunds.
VSTE is pleased to welcome Sylvia Martinez and Gary Stager for a week of minds-on and hands-on learning. Join them and your VSTE regional colleagues for a day of hard fun and problem solving at the Invent To Learn Workshop— where computing meets tinkering and design.
Update: The roadshow will travel the state during the week of October 19, 2020.
The workshop begins with the case for project-based learning, making, tinkering, and engineering. Next, we will discuss strategies for effective prompt setting. You will view examples of children engaged in complex problem solving with new game-changing technologies like 3-D printing, robotics, and programming and identify lessons for your own classroom practice. Powerful ideas from the Reggio Emilia Approach, breakthroughs in science education, and the global maker movement combine to create rich learning experiences.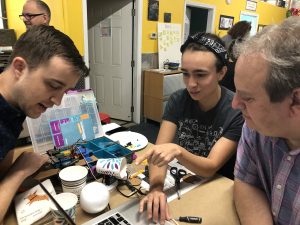 Most of all, you will learn by making with exciting NEW materials! Learn how micro:bits, the new Hummingbird Bit robotics kit, Scratch, Makecode, and other emerging technologies can supercharge not only STEAM, but all subjects. This is a fertile context for learning coding and engineering through playful projects that bridge the digital and physical worlds. During the workshop, we will also discuss how to integrate project-based learning across the curriculum.
Each participant will leave with a Micro-bit Go kit.
The Roadshow will visit four locations in the state during the week of March 23, 2020:
March 23, 2020: Western Branch High School, 1968 Bruin Pl, Chesapeake, Virginia
March 24, 2020: Goochland High School, 3250 River Rd W, Goochland, Virginia
March 25, 2020: New College Institute, 191 Fayette St, Martinsville, Virginia
March 27, 2020: Amazon Web Services, 13200 Woodland Park Road, Herndon, VA 20171
This event is supported by the Virginia Department of Education and CodeVA.