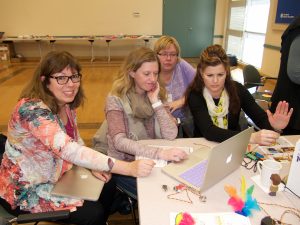 VSTE is pleased to welcome Sylvia Martinez and Gary Stager for a week of minds-on and hands-on learning. Join them and your VSTE regional colleagues for a day of hard fun and problem solving at the Invent To Learn Workshop— where computing meets tinkering and design. The roadshow will travel the state during the week of March 23, 2020.
The workshop begins with the case for project-based learning, making, tinkering, and engineering. Next, we will discuss strategies for effective prompt setting. You will view examples of children engaged in complex problem solving with new game-changing technologies like 3-D printing, robotics, and programming and identify lessons for your own classroom practice. Powerful ideas from the Reggio Emilia Approach, breakthroughs in science education, and the global maker movement combine to create rich learning experiences.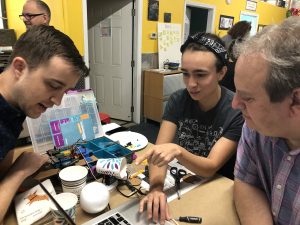 We'll be working with Micro-bits and hummingbird robots to create with cardboard and craft supplies. Each participant will leave with a Micro-bit.
The Roadshow will visit four locations in the state during the week of March 23, 2020:
March 23, 2020: Chesapeake, Virginia
March 24, 2020: Goochland, Virginia
March 25, 2020: Martinsville, Virginia
March 27, 2020: Herndon, Virginia
Registration will open soon, and seats will be limited. Interested?  Complete the form, and you'll be the first to know when registration opens!
This event is supported by the Virginia Department of Education and CodeVA.