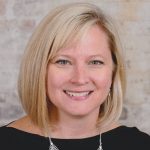 Terry Partlow Lowry
Director of Technology & Curriculum
Wakefield School
Educational Leadership Experience
My experience in education spans almost three decades and includes the roles of classroom teacher, instructional technology coach, and school administrator. I am currently the Director of Technology and Curriculum for Wakefield School, an Independent School in The Plains, VA. A current member of the VSTE Board, I have chaired the Awards Committee and also served on the Education and Outreach and Advocacy Committees. Throughout my career, I have presented at local and state conferences on innovative practices, resources and instructional strategies and best practices.
Vision for VSTE
The strength of VSTE lies in its membership. VSTE needs to build on its strong history of bringing together some of the best and brightest educators, administrators, and technicians, and continue to expand and create opportunities for these constituencies to share ideas and resources. VSTE must also continue to serve as a vocal advocate for our members, at both the state and national level, strongly articulating their views on instructional issues related to the use of technology for learning.
Biographical Sketch
An educator with 20+ years of experience, I have undergraduate and graduate degrees from the University of Virginia and have taught in both Virginia and California. In addition to my experience in education, I have also worked as an IT consultant overseeing system implementations and training. Previously an Instructional Technology Coach for Prince William County Schools, in 2015 I accepted the position of Director of Technology and Curriculum at Wakefield School. I currently live in Haymarket with my husband, son, and our 17 year old dog, Jesse.