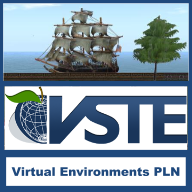 VSTE in Second Life Presentation
Monday, June 22, 2020, 8:00PM
Join VSTE VE PLN for a presentation about 3DWebWorldz, Virtual World in a Web Browser. The event will begin on SecondLife VSTE region with a short presentation by teacher and lead developer, Yvonne DeBandi, followed by Q&A and a field trip to 3DWebWorldz.com. If you have been there before but not recently, you may be surprised by the updates and advancements that have occurred.
3DWebWorldz has easy access, no downloads, guest account access, and runs on a Chromebook.  That is the #1 reason I started looking at 3DWebWorldz. Voice works as well as Zoom and Google Meet (you must accept browser microphone permission request).
Begin by coming to Second Life first, VSTE region.  (See directions for connecting below.) We'll spend some time learning more and then head to 3DWebWorldz:
1) Go to https://3dwebworldz.com
(Google Chrome recommended).
2) Login as Guest, no credentials beyond a chosen nametag required. You will automatically land on Orientation I Region as a genderless avatar called a Zendzi. (Registered account users can choose human or genderless form, as well as change their clothes.  We recommend guest access for the tour if you do not already have an account.)
VE PLN Second Life Summer Book Study Begins June 29
Howdy there VSTE Members, the results are in. This summer, we will be reading SANDBOXED: Paradise or Prison by Yvonne DeBandi. So, grab your copy of the book from your favorite bookseller and start reading. You might also want to check out the author's website.
Our first meeting will be Monday, June 29, at 8 PM in Second Life at the VSTE Space (directions for joining below). Read through Chapter 9 but no further!
VSTE in Second Life Office Hours:
There is a small learning curve for getting up and running in Second Life. But, we think it's worth it. If you want some help, join Jaz and Thunder for Saturday morning office hours. Use the directions below to install the software and set up a free account.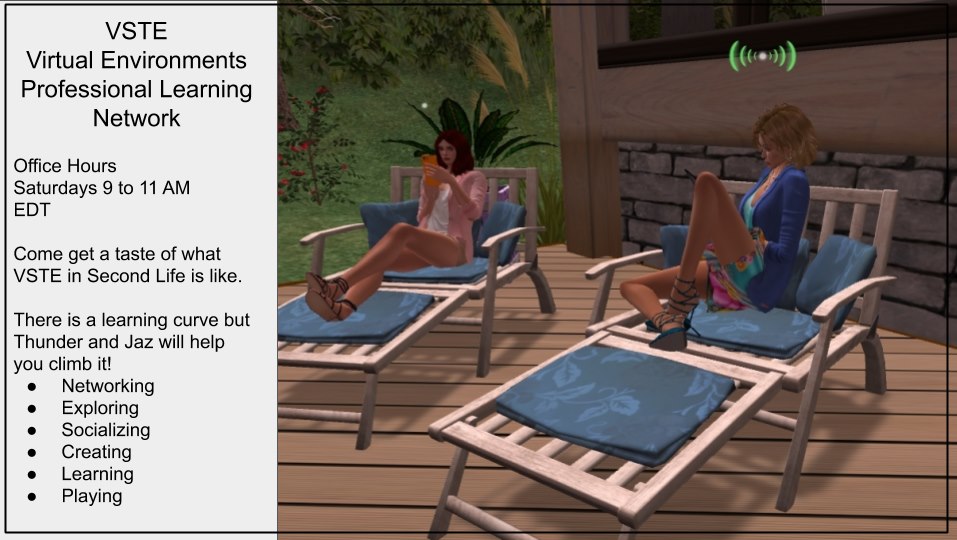 ---
Basic directions to join VSTE Place, VSTE's Minecraft world:
You must have a Minecraft account from https://minecraft.net/en/ to join. There is a one time fee of $26.95 to download and install the software. You will need to be whitelisted to enter the VSTE server.
Email Kim Harrison at [email protected] from an educational email address with your real name and Minecraft account name.
Start the software and choose multiplayer and add a server: Name VSTE Place IP 69.175.17.26:25565
We use Discord to share voices in Minecraft. This is a voice and screen sharing application that will run on your computer or mobile device. Download and install it for free. Create an account. Many of us use the same name for our Discord account as our Minecraft account to keep things simple. Our channel is https://discord.gg/nDX4mZv It helps us to be able to play Minecraft in one screen and listen via Discord with earbuds or headphones.
Basic Directions to access VSTE in Second Life:
Tutorial Video: https://www.youtube.com/watch?v=5TdiHylfcvM&feature=youtu.be
Second Life is a virtual world that is navigated using an avatar. You will need a free Second Life account as well as the software in order to participate. We recommend setting up an account at the Rockcliffe University Consortium's Gateway here: https://urockcliffe.com/reg/second-life/ Download and install the software.
Once the software is installed and open, click this link http://maps.secondlife.com/secondlife/Soulgiver/156/169/58 and your avatar will be teleported to VSTE Island. Look for an avatar on VSTE Island and say, "Hey, I'm new!" We will take care of the rest.
Past Events:
Minecraft Monday
Monday, May 4, 2020, 8 PM
Let's go Orienteering in Minecraft!
Minecraft Monday will be on May 4th at 8 PM Eastern time in VSTE Place. I have maps purchased from my village cartographer which we will duplicate and use to find treasure or temples! Come work with a friend, alone, compete or cooperate - you do you, but first we will talk about coordinates and how to follow the map. How could you use this with students?
Scroll down for more information about how to connect to Minecraft.
Virtual environments like Second Life and Minecraft offer opportunities to expand online learning for both teachers and students. The VSTE Virtual Environments PLN will be offering a variety of events in the coming weeks. Minecraft Monday: Held the first Monday of each month at VSTE Place in Minecraft. Details for connecting are at the bottom of this post.
VSTE in Second Life Photo Tour: Staying home and looking for ways to stay connected with your fellow educators? Come join us in Second Life, Monday, April 27, 8:00 PM EST at the VSTE Virtual Education Network. We will do a Photo Tour of the 2020 Fantasy Faire, a virtual Relay for Life event that supports Cancer Research. Featuring over 18 fantastical-themed zones, partake in a Tour of the various areas as we talk about the creations and take some magical photos. Details for setting up a free Second Life account and accessing VSTE in SL are at the bottom of this post.
VSTE in Second Life Student Presentation: A Comparison of the Jurassic Rocks of Switzerland and Como Bluff,  WY USA: A CaseStudy in International Collaboration at the High School Level
Monday, May 11, 2020, 8:00 PM
We often hear in schools about the need for students to learn 21st Century skills such as creativity and collaboration on an international scale. Franklin County High School student Darien Bradley worked for months with a scientist in Switzerland to compare and contrast the geology of the Jurassic time period of Switzerland with the classic dinosaur locality at Como Bluff, WY. He will discuss challenges and benefits of doing online collaboration with someone in another country as well as what he learned about the Jurassic time period in these countries.
Join us in Second Life, Monday, May 11 at 8:00 PM EST.
Details for setting up a free Second Life account and accessing VSTE in SL are at the bottom of this post.