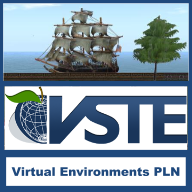 William Schmachtenberg, chair of the Virtual Environments PLN, will lead a session about Virtual Reality in Schools on September 23, 2019 at 8 PM ET.
Join us on VSTE Island in Second Life to learn more about how students are learning to create VR content.
The essential questions are what VR will look like in schools. Will it be multiuser or single user? How will students create in VR? Come to the presentation and Bill will share projects that have already been done by students at Franklin County High School just South of Roanoke. We will also discuss Alt Space.
Join the VSTE VE PLN on VSTE Island in Second Life: http://maps.secondlife.com/secondlife/Soulgiver/170/144/58
You will need a free Second Life account as well as the free software in order to participate. We recommend setting one up at the Rockcliffe University Consortium's Gateway here: https://urockcliffe.com/reg/second-life/ Download and install the software. While your Second Life viewer (software) is open click this link http://maps.secondlife.com/secondlife/Soulgiver/155/144/58 and voila! Look for an avatar on VSTE Island and say, "Hey, I'm new!" We will take care of the rest.