On May 17, 2021 (note NEW date),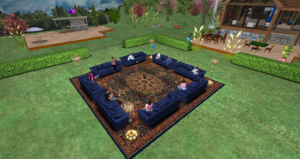 on the Virtual Environment Professional Learning Network (VE PLN) sim on Second LIfe, Dr. William Schmachtenberg (Dae Miami SL) will present data from high school students and how well they did with outside activities, creative projects, and traditional assignments such as watching a video or doing a worksheet.
Please join us at 8 PM ET.  This is part of our series: A report from the front lines, teaching in schools during COVID. Dr. Schmachtenberg teaches Earth Science at Franklin County High School and is an innovator in virtual environments and virtual reality.
Second Life is a virtual environment and requires an avatar to participate. Use the information below to create an account and get your avatar to the VE PLN sim.
Basic directions to join VSTE Space
If you don't have a Second Life account get one, it's free. We recommend setting one up at the Rockcliffe University Consortium's Gateway here: https://urockcliffe.com/reg/second-life/ When you do this your avatar's "home" is set to be the Rockcliffe University's sim, bypassing the normal Second Life welcome area.
Download and install Second Life viewer software. You will be directed to download the Second Life viewer but we prefer the Firestorm viewer at https://www.firestormviewer.org/. Either one will work but Firestorm has some advantages.
When you are ready to join us, while your Second Life viewer (software) is open, click this link http://maps.secondlife.com/secondlife/Soulgiver/155/144/58 to teleport yourself to VSTE Space. Look for an avatar and say, "Hey, I'm new!" We will take care of the rest. Someone is there most Saturday mornings from 9 to 11 AM Eastern Time (Same as New York).