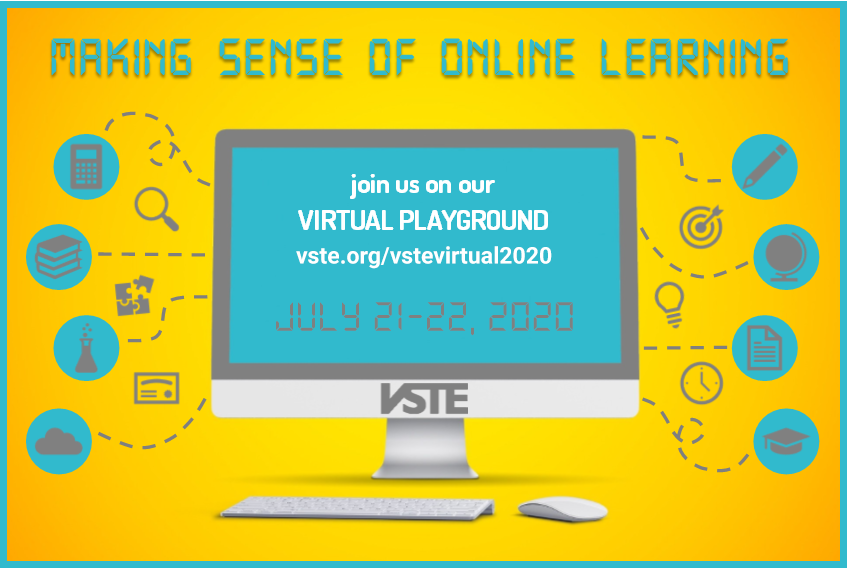 Join VSTE for a virtual conference experience July 21st and 22nd, 2020. We're calling it a playground: an interactive, community-based event that takes advantage of no- and low-cost tools to learn, share and grow together. We have reserved two days for live events including keynotes, discussions, maker workshops, virtual environments explorations, and, of course, karaoke. But, the content will be collected and shared online and offer opportunities for continuing participation in the community.
Beginning June 1, 2020, VSTE members and friends will be encouraged to submit their online resources and content to the VSTE Virtual Showcase. Showcase items might include:
Resources and ideas for going online
Links to presentations, lesson plans, tutorials or other items you have created to support online learning
Descriptions of how you are using particular tools to support online learning
Live discussions on online learning: lessons learned
Starting June 15, 2020, VSTE will review the submissions and invite submitters to develop presentations, either pre-recorded or live, that will be part of the two-day event. But…the submissions will live on as part of the virtual conference. YOUR SUBMISSIONS DO NOT MEAN YOU WILL HAVE TO PRESENT.
During the two-day conference, we'll also be exploring ways to connect with other conference attendees as we know that is one of the most powerful parts of a face to face conference. Participants will be encouraged to submit their profiles to the conference bulletin board to facilitate those connections.
The conference is free and open to all. However, we are encouraging you to register. Registration will make it easy for us to contact you quickly with information prior to, during and after the conference. You must be registered to receive the certificate of attendance.