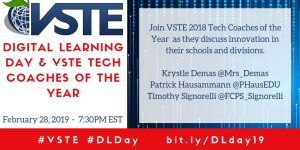 Krystle Demas, Patrick Hausammann, and Timothy Signorelli, the 2018 Tech Coach of the Year winners, will be featured in VSTE's Digital Day Learning Webinar, Thursday, February 28, 2019, at 7:30 PM. They will be highlighting innovative practices and answering questions about technology and coaching. You can use this link to join us live. 
VSTE asked these leaders to share their best coaching tip and, perhaps not surprisingly, they all focused on the importance of empathy of relationships:
Krystle: One size doesn't fit all. Working with teachers is similar to working with students in that we can't expect everyone to be at the same place at the same time. Teachers appreciate a coach that understands and empathizes with their needs and celebrates their successes! I have found that building relationships first and offering a helping hand open the door to allow conversations to start about teaching and learning.
Patrick: When coaching teachers, administrators, or even students… start with empathy. Think back to when you started your journey or align to where your colleague is in theirs. Innovation for each person is different and can be a small step or a giant leap. Taking the time to empathize and build a relationship ensures that you know better how to scaffold your help and how much you can push outside of comfort zones for growth, stopping short of frustration or overwhelming.
Tim: Relationships are key. Empathy helps to build those relationships, and is a learnable skill. Krznaric claims, "Our personal empathy quota is not fixed: we can develop our empathic potential throughout our lives." Knight suggests that, to build this skill, we need to look back (consider interactions we've had with others and how we can be more effective in the future), look at (reflecting on action and identifying when/how we demonstrate empathy), and look ahead (make plans for our interactions in the future).
Join us on February 28, 2019, at 7:30 PM, to learn more about how these award-winning coaches have built those kinds of relationships. And, learn about other Digital Learning Day events here.