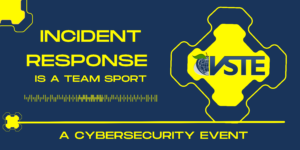 According to the Department of Homeland Security (DHS) and the Cybersecurity and Infrastructure Security Agency (CISA), when it comes to cybersecurity, K-12 school divisions are "particularly lucrative targets due to the amount of sensitive student data accessible through school systems."
Incident Response is a Team Sport is an event designed to provide participants with the opportunity to experience how a cybersecurity incident may unfold and how an Incident Response Plan can help minimize loss of information and disruption of services.  K-12 division-level leadership including superintendents, assistant superintendents, technology directors, network admins, and other critical staff who would be involved in incident response decisions should attend. The objective for the day is for schools to leave with a draft of an IRP if they do not already have one, or to refine the one they already have as a result of interacting with cybersecurity and legal experts throughout the day.
We will start the day with district teams engaging in a tabletop exercise to provide an opportunity for school division leaders to strengthen their cybersecurity program awareness, plans, decision-making process, and capabilities.  We will also use the tabletop exercise to determine key considerations for the core components of your division's IRP.  During the time together, you will have an opportunity to review and update your Incident Response Plan with feedback from colleagues from other divisions as well as agency and organization cybersecurity experts.  It is recommended you register with your division team to get the most out of the tabletop exercise.  The afternoon sessions will provide breakout sessions geared toward the specific operational, legal, communications, and technical concerns of those in the crucial division-level leadership roles mentioned above.
To accommodate divisions in different geographical regions, the event will be offered twice once on March 14th at Richard Bland College of William and Mary in South Prince George, and again with the same agenda on March 30th at the New College Institute in Martinsville.  It is strongly recommended that you register with a team from your division.  Lunch will be provided.
Register your team for the Richard Bland College event on March 14th or the New College Institute event on March 30th by pointing your browser to bit.ly/incident-response-23.