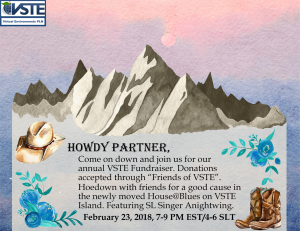 The Virtual Environments PLN will be hosting a hoedown and fundraiser to welcome House@Blues to VSTE Island on Friday, February 23, 2018, from 7 to 9 PM EST. This live concert will feature singer Anightwing.
The fundraiser helps offset the cost of VSTE Island. You can make donations via our Friends of VSTE fund.
New to Second Life?
If you don't have a Second Life account get one, it's free, at http://secondlife.com/. Download and install the software. While your Second Life viewer (software) is open click this link http://maps.secondlife.com/secondlife/VSTE%20Island/61/104/22 and voila! Look for an avatar on VSTE Island and say, "Hey, I'm new!" We will take care of the rest.