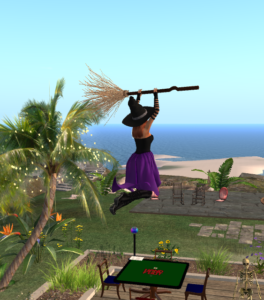 The Virtual Environments Professional Learning Network is hosting several fall activities for fun and learning.
Halloween Social
October 26, 2020, 7 - 8 PM ET, the VSTE crowd will dance and network in costume to "DJ Thunder's" Halloween tunes at VSTE Space in Second Life. Come chat and laugh with us. Let your hair down and leave the stress at home for an hour. 
Costumes are optional but if you want help with one, come visit Jazmemo and Thunder at VSTE Space during office hours any Saturday morning between 9 and 11 AM ET. We are always there ready to help. You still have time on Saturday, October 24 so don't miss out!
Report from the Front Lines
The VE PLN is starting a new segment called Report from the Front Lines. This series will be held at VSTE Place in Second Life once a month. The next meeting will be Monday, November 9 at 7 PM ET. This is an opportunity for teachers from across the state of Virginia and beyond to share data from teaching online, hybrid (AABB model), or fully in class. We will discuss strategies for improving grades of students, problems teachers are having, and new tools for teaching online. We had an organizational meeting on Oct. 12 that went well. Please join us as we continue to learn and grow in this new environment. The conversation will be led by Dr. William Schmactenberg, High School Earth Science Teacher at Franklin County High School, AKA Dae Miami (sl).
Minecraft Mondays
The first Monday of every month the VSTE VE PLN meeting is held in Minecraft on VSTE's own server.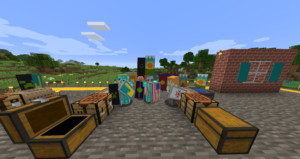 On Monday, November 2, 2020, at 8 PM ET, we will have a basic lesson in building with redstone, Minecraft's own "electricity." Experienced redstone builders are invited to create something ahead of time to show off what they can do to inspire the beginners! The server is online all the time.
How to Connect to the VE PLN via Second Life and Minecraft
Join the Facebook Page to keep up with the VE PLN