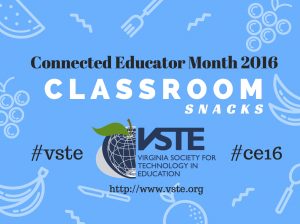 As educators, we spend lots of time talking about students but not much time talking to them. VSTE is working to change that by providing virtual visits to classrooms across the Commonwealth. Our "classroom snacks" will take place on Thursdays throughout October.
We'll continue the series  with four groups of students from Roanoke County on Thursday, October 20, 2016:
9:00 AM: ITRT Tina Coffey and students at Oak Grove Elementary School talking about makerspaces
10:00 AM: Teacher Sherri Rickman and students from the Burton Center for Arts and Technology
12:00 PM: Teacher Cynthia Bowen and students from Cave Spring Middle School talking about the Global Read Aloud
1:00 PM: ITRT Tina Coffey and students from Fort Lewis Elementary School talking about their new makerspace
Join us in our Adobe Connect room to listen live or access the archive later.
You can check out the archives of conversations with students from Bull Run Middle School here and Frederick County Schools here.