During our TSIP (Technology Standards for Instructional Personnel) evaluations, I make it a habit to ask all of my teachers, "How's it going?" "Do you need help or assistance with anything?" Mrs. Candice Nurney, a second-grade teacher at Sussex Central Elementary School, answered "No, I'm fine and my students are doing well!" Given that her portfolio evidence is always exemplary, her evaluation was short so we had a few minutes to chat before my next evaluation. I was intrigued by her answers and wanted to know more as I have read the horror stories about virtual learning and elementary students.
Reflecting back to the beginning of the school year, Mrs. Nurney said and continued to reiterate that ATTITUDE was very important and instrumental in the success of her second-graders in the virtual learning environment. Just like every other teacher, she went into virtual learning with the fear of the unknown, but her positive ATTITUDE made the difference. It would have been easy to succumb to the negative stigma that elementary students are too young for virtual learning, but not Mrs. Nurney. She stated that how you approach the situation and your ATTITUDE will dictate success or failure.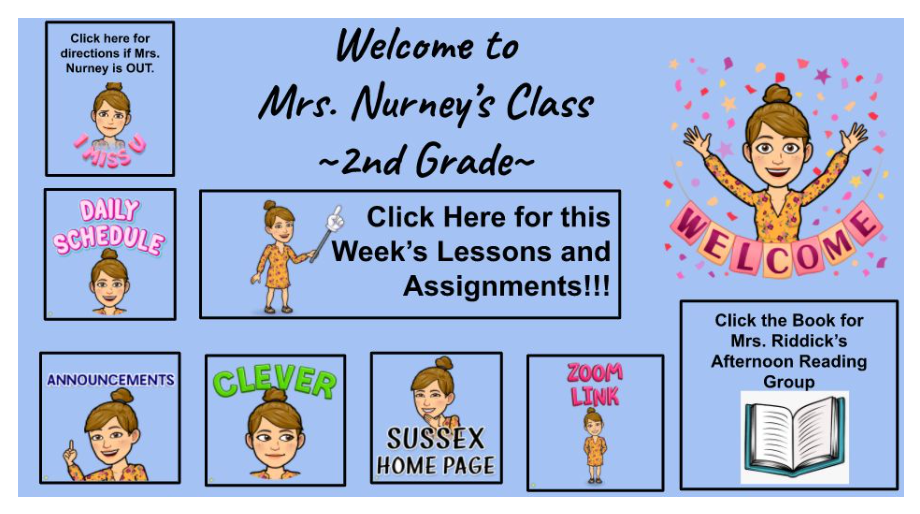 At the beginning of the school year, Mrs. Nurney took the time to​ explain and practice ​with her students, just as she would in the face-to-face environment. She mentioned that she kept her instructions simple and clear, as well as allowing ample practice time for her students while making sure she did not overwhelm them with too many tasks. Although the focus was given to the usage and features of the Canvas, Clever, and Zoom platforms for the first few weeks of school, the subject matter was still being taught.
Mrs. Nurney recognized the importance of these platforms and the role they would play in her success as a teacher in the virtual environment so she took the time to model screen sharing, muting/unmuting, reactions, and how to access documents and resources in Clever and Canvas with her students. She made it fun by using the popular Bitmoji classroom, which also made her Canvas page easy to navigate. In addition to her normal working hours, Mrs. Nurney made herself available after hours to assist parents and students so they could be successful. With persistence and patience, her second graders continue to thrive in this virtual environment. Despite this horrible pandemic and the normal challenges of virtual learning, she kept a positive ATTITUDE. Mrs. Nurney is a true testament to the saying, "a positive attitude will lead to positive outcomes."
---
Written by Tim Mays (@tmays921). Tim is the Coordinator of Instructional Technology and Student Information Systems for Sussex County Public Schools. He is a VSTE Board Member and a member of VSTE's Education Committee and a Diversity, Equity, and Inclusion Mentor. Mrs. Candice Nurney is a second-grade teacher at Sussex Central Elementary School and is currently a doctoral student at Liberty University.