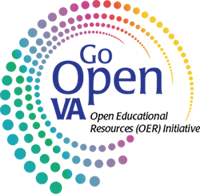 Jean Weller, VSTE Board Member and VDOE Technology Integration Specialist, leads the #GoOpenVA initiative in Virginia. This collaborative initiative enables educators and others throughout Virginia to create, share, and access openly-licensed educational resources (OER, also known as open education resources). OER are free digital materials that can be used or modified to adjust to student needs; they are openly-licensed unhampered by many traditional copyright limitations.
The database is growing. Jean recently created a collection for resources specifically related to professional learning. Technology coaches from across the state have contributed and you can learn more here.
Focus on Collaboration
More heads are better than one!  Collaboration is a great way to develop an engaging, flexible, and innovative educational resource. Remember that you can collaborate using #GoOpenVA tools, like Groups and the Open Author editor which allows for co-authors, while social distancing with colleagues near (or far).  Here are some cool lesson plans created by teams of Virginia educators.
Designing a Martian Pod to Minimize Heat Transfer is one of the Science Instructional Plans created by teachers under VDOE's guidance.  In it, students are challenged to learn about energy and energy transformations through practical applications.
Pharmacy Technician FlexBook is the very first textbook created as an OER to be shared on #GoOpenVA.  The work was a dedicated effort by Kim McTyre and Kathleen Vuono of Virginia Beach Public Schools, to support the new CTE course for Pharmacy Technicians.
VT PEERS: Mountain Road Repair was developed by groups of teachers funded through an NSF grant, focusing on engineering in the K-12 classroom.  This collaboratively created lesson focuses on student collaboration as a tool for learning how to solve problems.