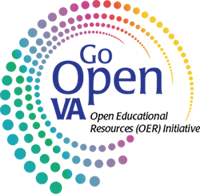 Jean Weller, VSTE Board Member and VDOE Technology Integration Specialist, leads the #GoOpenVA initiative in Virginia. This collaborative initiative enables educators and others throughout Virginia to create, share, and access openly-licensed educational resources (OER, also known as open education resources). OER are free digital materials that can be used or modified to adjust to student needs; they are openly-licensed unhampered by many traditional copyright limitations.
The database is growing. Jean recently created a collection for resources specifically related to professional learning. Technology coaches from across the state have contributed and you can learn more here.
Featured Resources
One of the best things about OER is that you can take an lesson created for one content area and edit it to address additional activities to address another content area.  Here are some lessons that can easily be edited to include English SOL, making them cross-curricular.
Comparing the Layers of the Atmosphere is a short science activity from Tanna Mezacapa of Virginia Beach.  This lesson involves having students make comparisons between the layers of the atmosphere and any other layered thing with which they are familiar. Can't you see a great way to extend this lesson to English studies on similes and metaphors for a cross-curriculum lesson?
Boston Massacre: Propaganda is a primary source lesson from Michelle Carr of Hanover. Focusing on the use of propaganda during a historical time period can also be a great lesson for English regarding writing persuasively or studying media literacy.  Can you write a cross-curricular remix to incorporate English SOL with the History and Social Science SOL?
Map Symbols Unplugged is a lesson created by the Virginia K-12 Computer Science Pipeline project.  Why not add an extra dimension by including writing directions, or creating a story to go with the map(s)?  Such a cross-curricular lesson would give you extra value for the time the students spend on the lesson!