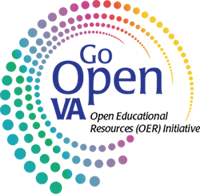 Jean Weller, VSTE Board Member and VDOE Technology Integration Specialist, leads the #GoOpenVA initiative in Virginia. This collaborative initiative enables educators and others throughout Virginia to create, share, and access openly-licensed educational resources (OER, also known as open education resources). OER are free digital materials that can be used or modified to adjust to student needs; they are openly-licensed unhampered by many traditional copyright limitations.
The database is growing. Jean recently created a collection for resources specifically related to professional learning. Technology coaches from across the state have contributed and you can learn more here.
We asked her to periodically curate a few of the resources to give a sense of what is available. Start with these but stay for so much more! And be sure to follow Jean on Twitter.
A salute to Hanover County Public Schools, supporting their fellow educators around Virginia with some great lessons! Each teacher used a different way to share on #GoOpenVA—an HTML document, uploaded document files, and a link to a Google site!  It's easy to share on #GoOpenVA—you can do it however feels comfortable for you.
Los Saludos – Greetings in Spanish: Erica Creasy of Hanover collects several different digital resources to teach students in early Spanish courses about interactions between people, and the cultural rules involved.  She invites other Spanish teachers to take this lesson and extend it to suit their needs.  Taker her up on her offer and make a REMIX!
https://goopenva.org/courseware/lesson/1666/overview
Solving Equations by Combining Like Terms Lesson: Kate Poprik of Hanover wrote a lesson that can be combined with in-person classroom work, or stay strictly virtual.  She provides a PDF, as well as a Word document that can be easily edited.
https://goopenva.org/courseware/lesson/1556/overview
Chesapeake Watershed and Ecosystems: Lisa Atkins of Hanover provides a link to her Google Drive where she has stored several lesson pieces to cover the exploration of Virginia's connection to the Chesapeake watershed.