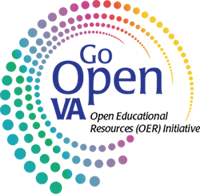 Jean Weller, VSTE Board Member and VDOE Technology Integration Specialist, leads the #GoOpenVA initiative in Virginia. This collaborative initiative enables educators and others throughout Virginia to create, share, and access openly-licensed educational resources (OER, also known as open education resources). OER are free digital materials that can be used or modified to adjust to student needs; they are openly-licensed unhampered by many traditional copyright limitations.
The database is growing. Jean recently created a collection for resources specifically related to professional learning. Technology coaches from across the state have contributed and you can learn more here.
#GoOpenVA hosts instructional resources from Virginia education institutions as well as individual educators.  During the fall, you might want to focus student attention on the study of their immediate environment, no matter where they live in the state. Here are a few examples of resources you can use to study about Virginia!
The Virginia Geographic Alliance provides a wonderful set of lesson plans for studying various aspects of Virginia Geography in their Virginia GeoInquiry Flipsnack Guide. Geoinquiries are intended to help get new teachers started or to move experienced teachers to grow their curriculum to incorporate deeper learning opportunities for students.  Teachers are guided on how to include local geographies into their students' lessons, along with personal observations and data collection.
Virginia Public Media partnered with the Virginia Wildlife Center (VWC) to post their Untamed video series, about wildlife in Virginia in the Virginia Wildlife Center Collection. Students can view videos to learn about animals such as bald eagles and black bears. Teachers can connect with the VWC to find background information to guide discussions on the animals and related topics, such as lead poisoning and creating backyard habitats.
The Virginia Museum of Fine Arts is expert at getting students to think and dig deeper. Jamestown and Beyond: The World of 1607 provides artwork for students to explore with the purpose to consider the cultures that influenced Jamestown and its legacy not only in Virginia but in the broader world.  Suggested activities for teachers to pursue with their students lead to a deeper learning experience than just a simple visit to a gallery.