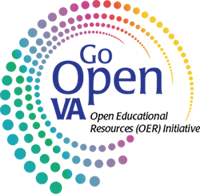 Jean Weller, VSTE Board Member and VDOE Technology Integration Specialist, leads the #GoOpenVA initiative in Virginia. This collaborative initiative enables educators and others throughout Virginia to create, share, and access openly-licensed educational resources (OER, also known as open education resources). OER are free digital materials that can be used or modified to adjust to student needs; they are openly-licensed unhampered by many traditional copyright limitations.
The database is growing. Jean recently created a collection for resources specifically related to professional learning. Technology coaches from across the state have contributed and you can learn more here.
Our earliest learners, PreK to 2, need lots of support and #GoOpenVA has quite a few resources that can be used with these beginning students.  However, we are in need of more lessons, especially those created with Virginia students in mind.  Please share your Pre-K lessons with your fellow educators, using the tools on #GoOpenVA to add resources (see the Users Hub for directions on how to do this!)
Henrico EdFlix from Henrico County Public Schools provides lots of resources for remote learning and some really wonderful Choice Boards for preschool students.  Click on the many examples to choose one, or two, or three that suit your students' needs!
Pattern Play (Kindergarten) is a new resource produced by WHRO just for Virginia students.  It is a recorded lesson taught by Dr. Karen Drosinos and can be used as is or edited into shorter segments as needed.
Call and Response Songs from Carnegie Hall is a great way to get your students warmed up for learning.  This activity can be done in person or online.  Although the lesson suggests a couple of fun songs for your students to sing, you can use call and response songs you remember from your own childhood.  Add your suggestions in the COMMENT box on the resource landing page (that's where the above link will take you).