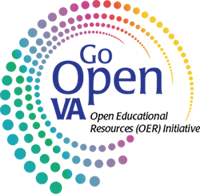 Jean Weller, VSTE Board Member and VDOE Technology Integration Specialist, leads the #GoOpenVA initiative in Virginia. This collaborative initiative enables educators and others throughout Virginia to create, share, and access openly-licensed educational resources (OER, also known as open education resources). OER are free digital materials that can be used or modified to adjust to student needs; they are openly-licensed unhampered by many traditional copyright limitations.
The database is growing. Jean recently created a collection for resources specifically related to professional learning. Technology coaches from across the state have contributed and you can learn more here.
We asked Jean to periodically curate a few of the resources to give a sense of what is available. Start with these but stay for so much more! And be sure to follow Jean on Twitter.
It seems as though the  snow has finally arrived this winter and schools may declare a few snow days that would force your students out for several days.  After a couple of snow days, everyone gets a little bored.  Here are some activities students can do on their own or online with other students.
Code a Snowflake encourages students to be creative with Scratch programming, while learning about angles and symmetry.  Bea Leiderman created a colorful document you can email directly to your students.
We've loaded lots of resources from Illustrative Mathematics onto #GoOpenVA.  A Ton of Snow is an investigation students can do on their own at home (though they can share their thinking with a small group online).  The problem is loosely structured in order to provide students practice with true modeling situations, making them think and make decisions.
Explore and Create Your Own Expressive Pattern is a lesson idea provided by the Virginia Museum of Fine Arts (VMFA).  Use this as a launching point to get students to think about and create patterns based on the winter season. Students can make art using just what they have available, even pen and paper.