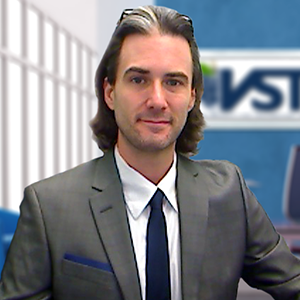 Members of the VSTE Board of Directors will be taking time to periodically share their ideas and passions with the VSTE membership. In this edition, Board Chair Keith Reeves challenges us to become advocates for quality public education, especially in the area of virtual education.
Happy New Year to each and every one of you, my friends and colleagues in education here in the Commonwealth of Virginia. Thank you for helping to make our annual conference this year a marvelous success. About 1,200 of you joined me, Dr. Richardson, the Board of Directors, and our exceptionally-talented Conference Committee in Virginia Beach to raise our voices, our awareness, and our skill levels.
As we gear up for the second half of the year, I'd like us to re-spark our interest in paying attention not only to our kids and families in our respective schools, but to the "thirty thousand foot view" of Virginia education. I'd like you to take a moment, in your drive or workout or stroll to the store, to think of what you'd say if you had just a quick opportunity to say something to your local elected officials about educational technology.
If you stepped onto an elevator with your Delegate, what would you say about ed tech?
I think I'd play the role of the "Ghost of House Bills Past" and mention HB8, the failed legislation effort of the past two years that sought to back-door privatization in Virginia's schools by putting K12, Inc. in control of a mandatory virtual school option in every school system in the Commonwealth. Governor McAuliffe clearly understood this privatization effort, and vetoed the bill in early April 2016. (You may recall that VSTE was ardently against this bill, as we articulated in our February 2016 statement, and I made sure as Chairperson of the Board to be significantly vocal on the subject.)
Why mention it? Because it's coming back.
Many people hear "K-12" and think we're only ever referring to "kindergarten through twelfth grade," but K-12, Incorporated is a for-profit corporation, not an age range. This perilous conflation may lead many to misunderstand the intent of legislation, and we have a role to play in raising our voices in clarity.
The reason VSTE and I stood against HB8 was simple: It put a state-level mandate on schools that put the power in a single corporation's pocket, siphoning local funding away to fuel the fires of this new private engine.
According to sources who say they have spoken with him, Representative Dickie Bell (R) apparently intends to reintroduce a version of HB8 this year, as a competing measure against Governor Terry McAuliffe's (D) intended legislation, which would put a local-level mandate on schools and give them choice in how they implement virtual learning. Students who attend such programs have been shown in recent data analysis to underperform students who have the fuller advantages of the ever-more-personalized learning opportunities you, the talented and skilled educators of Virginia, provide in your local schools. While there are places where the Virtual Virginia pilot has been going well, we believe it most appropriate to allow local schools to evaluate programs and to mount pilots consistent with their needs and priorities, rather than create a law that all but guarantees sole-source contracting as the defeated HB8 did.
Let's be clear about this: It is one thing to say "we want students to have the opportunity to learn online." It is entirely another thing to say "And a sole-source corporate provider will be that option." It is important for local school divisions to be able to select innovative, meaningful, and most importantly not-for-profit educational methods to ensure student learning is not commodified. The introduction of market principles into educational policy craft is a mistake, as I write about in my work, and we must take extraordinary care to ensure that we don't see another back-door attempt to privatize Virginia's public schools pass muster in the guise of providing good online learning.
Virtual education can do remarkable things for students when done right, such as the extension of supplemental counselor-assisted asynchronous high school instruction in Loudoun County, and the schools of Virginia need such professional educators making pedagogical decisions, not imposed structures of corporate influence.
It is my hope that we educational technology leaders can raise our collective voices to make the clear distinction to our legislators, whenever and wherever we can: Yes to innovative learning opportunities. No to corporatizing public education.
In the coming months, I issue to you the same charge then-Vice Chairperson Karen Streeter offered to you from the dais at the 2016 Conference in December: Find time to engage with your elected officials. Encourage them to scrutinize any bill that says "virtual" on it, and offer to engage with them on the subject. Lend your voice. Lend your ideas. Lend your assistance, so that our students are well-represented and have the opportunity to learn from excellent local professional teachers using locally-selected online materials that best serve the needs of your community. A state-level one-size-fits-all mandate that hands the reins of curricular and implementation powers to for-profit enterprises would jeopardize the state of education in the Commonwealth, and that is a misstep we simply cannot afford.
On behalf of your Board of Directors, thank you for your continued support of quality educational opportunities for our students, and of the mission of your Virginia Society for Technology in Education.