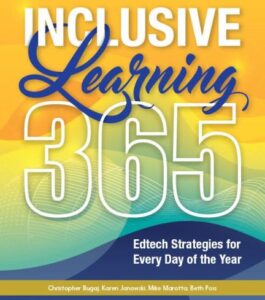 The VSTE Diversity, Equity and Inclusion Committee is pleased to host the authors of the new book Inclusive Learning 365: Edtech Strategies for Every Day of the Year for its free webinar series. The group will be joined by Amy Jackson on May 13 at 9 AM.
Christopher Bugaj, Karen Janowski, Mike Marotta, and Beth Poss have created a wide ranging guide to inclusion with lots of strategies. They remind us that learning need not be a chore for anyone, including those with IEPs or 504s.
The session will begin with an examination of what authentic inclusion really is, what it looks like, and how it fosters improved outcomes for everyone involved.
From there, explore a range of strategies which engage and empower ALL students to take charge of their own learning. Incorporated into the strategy discussion will be examples of contemporary tools that can be used to support the design of the instructional methodologies. From apps to browser extensions to web tools, participants will not only learn new supports to promote active learning for every student but have an opportunity to share what's working in their own practices.
Areas to be discussed include reading, writing, STEAM, Executive Functioning, Research and Study Skills, Social Emotional Learning, Professional Learning, and Cross-Curricular Supports.
Come for the strategies, leave with mindset change!
Registration is required: https://us02web.zoom.us/meeting/register/tZAofuuprjouE93OE41HwwlFhB5iYDaUPomI
After registering, you will receive a confirmation email containing information about joining the meeting.